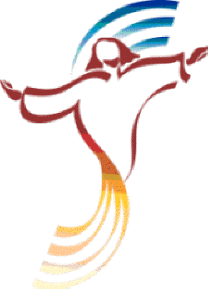 Week of October 24th, 2021
Come and See!
---
The Word …
Jesus was leaving Jericho with his disciples and a sizable crowd,
Bartimaeus, a blind man, the son of Timaeus, sat by the roadside begging.
On hearing that it was Jesus of Nazareth, he began to cry out and say,
"Jesus, son of David, have pity on me."… Jesus stopped and said, "Call him."…
He threw aside his cloak, sprang up, and came to Jesus.
Jesus said to him in reply, "What do you want me to do for you?"
The blind man replied to him, "Master, I want to see."
Jesus told him, "Go your way; your faith has saved you."
Immediately he received his sight and followed him on the way.
(from Mk 10:46-52)
---
Pondering the Word …
"Go your way." "Pick up your mat and go home." "Go: the demon has gone out from your daughter." "The man begged that he might stay; but he sent him away, 'Return to your house and relate what God has done for you.'" "Were not ten of you cleansed? But where are the nine?" And he said to him, "Rise and go; your faith has saved you." And Jesus said to the centurion, "Go; as you have had faith, so let it come to pass for you."
We learn from the gospels that Jesus cured and healed lots of people: Jewish men and women; Romans, Syrophoenicians, Samaritans, you name it. Sinners, slaves, sons, mothers, daughters, lepers. Not only did he heal them, but he empowered them, saying how their faith in him led to their healing.
And then, in pretty much of all the cases, he tells the people to go home. "Go back to your families, your jobs, your friends. No, I don't expect to convert to Judaism. I don't expect you to get circumcised. You don't need to traipse all over Galilee following me. I don't want your money—you owe me nothing. Just give credit where credit is due: relate to others what God has done for you."
We often get trapped in a cycle where love and mercy are transactional -- you do this for me and I'll do this for you, And God forbid, can I ever accept what you give without strings attached or the need to reciprocate in kind? This is not the love of God, not the love Jesus modeled for us when he walked this earth.
"Love one another as I have loved you." Jesus' love is unconditional. Is yours?
---
Living the Word …
The true answer to that question is "No, it is not. Maybe every once in a while, with my kids or my family, but as rule….no." There's a good reason for that: we are human and our love is imperfect. That's ok. It gives us something to strive for.
Robert Louis Stevenson said, "You can give without loving, but you cannot love without giving." And true love is a gift that expects nothing in return. Be aware as you go about your week. Look non-judgmentally—unless of course, you are divine 😉 -- at times when your love is tied to expectations of return. Look with gratitude for the times when you have given love like God loves. Those times are truly gifts from God.
Oh, and by the way: try to love yourself this week as God loves you. No strings attached.
---
Mon, Oct 25: "For you did not receive a spirit of slavery to fall back into fear…"(Rom 8:12-17)
"A spirit of slavery:" provocative phrase. Fear—any type of fear—can enslave us. Existential fear, the fear of non-being and death; the fear of being vulnerable or not in control. FOMO—the fear of missing out, not on what's popular, but missing God's call to us. The slavery that is fear is pervasive these days. The antidote: Faith in God's unconditional and unending love and mercy. Reflection: Talk with Jesus honestly about what causes you fear. Remember the most oft-used phrase in Scripture: "Do not be afraid," Provision: Two books to consider if fear has you bound: Freedom from Fear, by Forrest Church, and The Book of Joy, by the Dalai Lama and Desmond Tutu.
Tue, Oct 26: "Those that sow in tears shall reap rejoicing. Although they go forth weeping, carrying the seed to be sown, They shall come back rejoicing, carrying their sheaves." (Ps 126)
Most of us don't like to recall difficult times from the past. It's not good to focus on negatives but if we don't spend time stepping back from and looking at things that have challenged us, we don't get the opportunity to reap the benefits, to celebrate the gifts that can come from times of trial. Today's reflection: Start small with this prayer. Identify something with which you have struggled, something you are far enough removed from that is now not as painful. Maybe you've never considered looking at things this way. Don't get caught up in the episode, but instead ask God to show you where and how God was/is present, both then and now. What blessings came from your struggles? Provision: Seek the counsel of a wise, trusted friend, spiritual director, or minister if you need help processing this.
Wed, Oct 27: "And you will say, 'We ate and drank in your company and you taught in our streets.' Then he will say to you, 'I do not know where you are from. Depart from me, all you evildoers!'"(Lk 13:22-30)
When I first started writing about Scripture, I referred to some gospel passages as "squirm in your seat" readings. This is one of them! It aligns with Mt 7:21: "Not everyone who calls to me, 'Lord, Lord,' will enter the Kingdom of heaven…" It's all well and good to be in Jesus' fan club, but, folks, it's not enough and we are fooling ourselves if we think a check-box approach to faith will clear the hurdle. Today's reflection: How close are you to Jesus? Are you in it for keeps come what may, or are you a 'hanger-on" as long as it doesn't interfere with your life or ask you to risk anything? Provision: If you feel "squirmy" about readings like this, think about going on a retreat or finding a spiritual guide who can help you sort through some of that squirminess.
Thu, Oct 28: "In (Christ Jesus), you are being built together into a dwelling place of God in the Spirit." (Eph 2:19-22)
In his book, Let Us Dream, Pope Francis laments about the rise in individualism, the "what's in it for me?" mentality. He emphasizes the urgency for us to build community together, not just with those who think or look or pray like us, but with everyone. The future of our planet and its creatures—including humanity—is at stake. Today's reflection: You are part of a dwelling place for Spirit: what does your building look like? Are there blocks of all shapes, sizes, and colors? Are there other types of building materials? Is the blueprint flexible or so rigid that there is no room for change or growth? Provision: Consider how you might work to expand your community.
Fri, Oct 29: "For I could wish that I myself were accursed and cut off from Christ for the sake of my own people, my kindred according to the flesh."(Rom 9:1-5)
There are times with Paul's letters that I want to insert a "rolling your eyes" emoji in what I write. He can be sooo dramatic! But you know what? What Paul is saying here is exactly what Jesus did. Jesus was cut off from his own people in the most violent of ways. But Jesus did not speak dramatically about a desire to sacrifice himself for the Jews. He let people decide for themselves, and while he may have "looked at them and loved them" as they walked away, they were free to make their own choices. Today's reflection: I know lots of parents who worry about their children who have eschewed organized religion; or people whose family members have "left the fold." Reflect: Will you be like Paul, full of angst and ready to throw in the towel? Or will you be like Jesus, trusting that God will lead each one in their own way. Provision: Pray. Don't argue, debate, storm around. Just pray.
Sat, Oct 30: Jesus went to dine at the home of a leading Pharisee ,and the people were observing him carefully.( Lk 14: 1, 7-11)
The inference of course is they were observing Jesus to see if they could catch him saying or doing something heretical. Too bad they didn't think more about observing him to learn what God desires for each of us. Today's Reflection: Pick a gospel story that speaks to you and imagine you are there. Observe Jesus. What do his actions—not just his words—say to you? Provision: As trite as the saying has become, ask: "What would Jesus do?"
---
We hope you enjoy "Come and See!" and we welcome your input. Please contact Elaine Ireland at
ehireland@loyola.edu
with questions, comments, and responses.
---
To receive "Come and See!" via email, send request to ehireland@loyola.edu.
© 2021, Elaine H. Ireland.
---
Up to 6 weeks of "Come and See!" reflections are saved here.
The latest is always listed first.