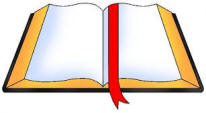 FAITH BOOK
1st SUNDAY OF ADVENT (B) December 3, 2023
Isaiah 63: 16b-17, 19b; 4: 2b-7; Ps 80; 1Corinthians 1: 3-9; Mark 13: 33-37
Jude Siciliano, OP
---
Mini reflections on the Sunday scripture readings designed for persons on the run. "Faith Book" is also brief enough to be posted in the Sunday parish bulletins people take home.

From today's Isaiah reading:

You, Lord, are our father,
our redeemer you are named forever....
Oh, that you would rend the heavens and come down, ...

Would that you might meet us doing right,
that we were mindful of you in our ways!

Reflection:
As we begin Advent, Isaiah reminds us that God is already disposed towards us for, he tells us, God is both a loving parent and our redeemer. God has been and still is, inclined towards us with a listening ear. God is a caring parent ready to hear our plea for forgiveness and our prayers of hope for renewal of mind and spirit this, Advent.

Advent is a time for dreaming big dreams, and so we ask ourselves:
This Advent, what do we hope for ourselves?

What hopes do we hold for our family?

What would we like to see happen in our world?
Click here for a link to this Sunday's readings:
https://bible.usccb.org/bible/readings/120323.cfm
---
FAITH BOOK ARCHIVE:
---